H3-Code Viewer WEB Site
Tomokazu ARITA (arita@obirin.ac.jp) and Takeo YAKU (yaku@cs.chs.nihon-u.ac.jp)
1. Introduction
H3-Code Vieweris a viewer for data structures H3-Codes based on rectangular dissection graphs.
H3-Code Viewer displays and generates tables based on H3-Code version 2.2 files.
H3-Code Viewer is a Java application and a FREE SOFTWARE.
Its Licence Rule is based on GPL.



2. Download
3 Source Files
4. Program Specification Documents
1, program specification documents:
1.1 Hiform documents (MS-Word Files): h3codeviewer011_hiform_051210.doc
2. Data Structures: H3Code ver.2.2: H3-Code ver.2.2
5. How to Install
Install Java.
LITE needs a java virtual machine(JVM). You download an appropriate JVM from Sun Microsystems (http://java.sun.com/products) and install it.
(A JVM (j2sdk1.4.2_05 or higher) is necessary for running an LITE.)
Stand Alone Version
If you use LITE of the stand alone version, you only need to download it.


4. How to Uninstall
5. How to Use H3Code Viewer
Open a terminal window, and put a following command: "java -jar h3codeviewer0.1.1.jar" (or "jar -jar h3codeviewerBatik1.0.1.jar".)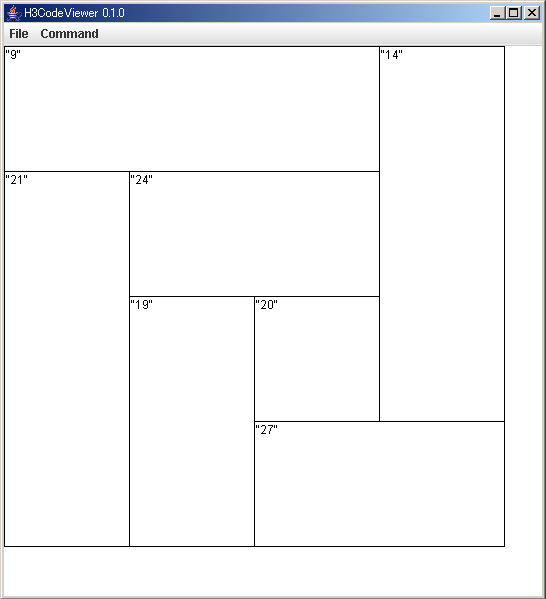 The Menus

Menu-File

New Table: this menu creates a new table.
Open: this menu opens HTC files.
Save: this menu saves HTC files.
Exit: this menu close an active window.
6. Sample Files